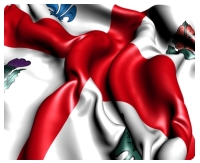 A pleasant and elegant combination of old and new alongside the St. Lawrence Seaway, Montreal is a wonderful place to stay, even for just a weekend.
It is such a rich historical city that it is not hard to find something to do and enjoy. Montreal is an optimal playground for savoring fine food and wine - with plenty of regional offerings available in restaurants and markets, gambling into a casino, shopping, visiting the many attractions and enjoying the full spirit of love - l'amour.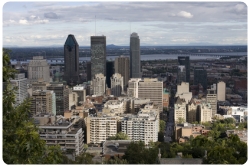 Montréal is the second largest French speaking city after Paris with 3.4 million inhabitants. It is a center of cultures from around the world with a mosaic of different neighborhoods and gastronomic diversity. Its architectural legacy spread out over four centuries of history – from the French Empire to the present time. Montreal is very cosmopolitan, despite its insular position. This vibrant city is characterized by its impressive atmosphere.
The Old Montreal
Even today, there are still horse carriages rolling the streets of Old Montreal (Vieux Montreal) over the cobblestones houses from the 18th and 19th century. The historical and archaeological museum Pointe-à-Callière, which is next to the museum Marguerite-Bourgeoys is the best insight into the city's history. The Museum shows artifact collections from the original nations of the area of Montreal that illustrate how many different cultures interacted and coexisted, and how the British and French regimes inclined the history of this country through the years. There you can find 350 years old relics. Very near is located the Notre-Dame Basilica in neo-Gothic style inspired by the rich features of its interior.
Montreal, the second largest city in Canada was founded in 1642. However, several Native American tribes had been settled at the place already for 8000 years. After Paris, the metropolitan area of Montreal also known as "Greater Montreal", is the second largest French-speaking city in the world. Today, Montreal is worldwide famous for being one of the most important cultural centers in Northern America. In addition, the city hosted the Olympic Summer Games in 1976. Since 1967 (with the exception of 2009), the Canadian Formula 1 Grand Prix is held in Montreal.
My exciting long weekend in Montreal unfortunately had to come to an end. After an exciting day of exploration yesterday that ended with an absolutely delicious dinner at Nuances, the fine dining restaurant at the Casino de Montreal, capped by an impressive pyro-musical performance at La Ronde, I rested up so I would be able to squeeze in a few more hours of discovery this morning. One more exploration of the city before I would have to had back to Toronto on the train before noon.
With all my suitcases duly packed I went off for one more urban adventure. Fortunately checkout wasn't until noon, so I was able to leave my luggage at the hotel and just head off with my camera and my backpack. I started walking west on Rue De La Gauchetière Ouest which starts off as a fairly small street surrounded by five or six story high older buildings. The first major sight I came across was St. Patrick's Basilica.

St. Patrick's Basilica
My personalized tour of the Casino de Montreal was very interesting and taught me many different things that I had never known about casino operations. My learning experience was followed by an opportunity to sample the Casino's hospitality first hand. Alexandre took me up to the top floor of the Casino and handed me over to Benoît, the restaurant manager at Nuances, the Casino's gourmet restaurant.

Benoît, the Restaurant Manager at Nuances, and Alexandre, my Casino guide
After my lovely cheerful encounter in the Square St. Louis I briefly went back to the hotel and then took the subway to the exit at Jean Drapeau Park. There are two large islands in the St. Lawrence River: Ile Notre-Dame and Ile Sainte-Helene. The latter more than doubled in size in preparation for Expo 1967. From the Park Jean Drapeau metro station I took local bus 167 to get to La Ronde, an amusement park originally set up for Expo 67. I had a ticket for tonight's international fireworks competition which was going to be held at La Ronde, so I had to go and pick it up at the information counter.

Entrance to La Ronde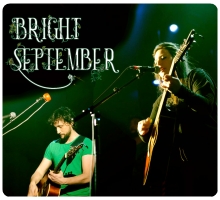 In September 2010, Esther (vocals / guitar) and Stephane (guitar / vocals) merged their respective artistic universes to create a dozen melancholy pop songs tinged with ambient rock: Bright September was born.
Early on, the duo performed on various stages across the city to test their compositions. The attention to acoustic guitars, powerful melodies and the haunting voice of Esther immediately seduced the audience.
Based on this experience, they included additional musicians who further enriches their music.
For a wise mix of intimate moods and pure energy look for their live shows in the city. And in the meantime … the band just released its first EP which is now available online (Amazon, Facebook, Spotify, Record Union …).
For more information on this band take a look at their myspace profile http://www.myspace.com/brightseptember
Enjoy the music!
After an enjoyable late lunch at Mañana and after learning about the interesting life story of its owner, Angel Broncales, I was ready for enjoying a little bit of afternoon relaxation and right across from Mañana is a beautiful urban park called Square St. Louis. Its history goes back a long way, all the way to 1848 when the City of Montreal installed a water reservoir on top of a hill. 31 years later the reservoir was taken down and the entire site was converted into a public park.
My lengthy explorations of the Olympic Stadium, the Botanical Gardens and the Insectarium, and my visit to the Jean Talon Market in Montreal's Little Italy had definitely stimulated my appetite for a good meal. By this time it was mid-afternoon and I had taken the subway back to the Latin Quarter in the St-Denis area, one of Montreal's major entertainment districts. The streets are packed with restaurants, bistros, cafés, hip boutiques and galleries and the Quartier Latin is definitely one of the places to be in Montreal.
I exited the subway at Sherbrooke and headed one street west and I ended up coming out right across from the Square St. Louis which is a beautiful neighbourhood park with benches and a fountain in the centre. On the east side of the street was a restaurant that caught my attention with its colourful outdoor tables and chairs. I checked it out and saw that it was a casual Mexican restaurant called Mañana. It looked like a great place to grab a late lunch and was in the perfect location since I was planning to relax a little in the park after the meal.

A colourful little spot: Mañana, on rue St-Denis
Appropriately rested from my action packed day yesterday I had a leisurely breakfast and headed out on the subway at 9:30 am. I love the subway system in Montreal since it's safe, efficient and all the major sights are accessible via underground transportation. And the interesting thing is the trains run on rubber wheels – none of that metallic clanking that I am so used to from places like Toronto, New York City or Chicago…
My first destination for this morning was Montreal's Olympic complex, located in the Hochelaga-Maissoneuve area, originally a city founded in 1883 by local farmers. Hochelaga-Maissoneuve was integrated into Montreal in 1918 and today is one of Montreal's main working class neighbourhoods whose residents are 90% French-speakers.
Montreal's Olympic Stadium is best accessed from the Pie IX subway station and upon leaving the station I walked across the vast concrete expanses surrounding this historic stadium, built for the 1976 Summer Olympics. One of it's nicknames is the "Big O" and it was supposed to be one of the most advanced structures of its time, holding just over 56,000 people. It featured a retractable roof that was held in place by cables suspended from a 556 foot tall tower, incidentally the highest inclined tower in the world.

Montreal's Olympic Stadium with its inclined tower
After my official Montreal bike tour, my individual explorations of the Lachine Canal and my chat with André from Ça Roule, I decided to go for a little stroll to explore Montreal's Port area which was hustling and bustling with celebrations on this Canada Day. I strolled out on Jacques Cartier Pier to an outdoor concert stage where two well-known Canadian singers, Kim Richardson and Sylvie Desgroseillers were enchanting the audience with Mo-Town and R&B melodies.

Kim Richardson