A pleasant and elegant combination of old and new alongside the St. Lawrence Seaway, Montreal is a wonderful place to stay, even for just a weekend.
It is such a rich historical city that it is not hard to find something to do and enjoy. Montreal is an optimal playground for savoring fine food and wine - with plenty of regional offerings available in restaurants and markets, gambling into a casino, shopping, visiting the many attractions and enjoying the full spirit of love - l'amour.
Montreal, the second largest city in Canada was founded in 1642. However, several Native American tribes had been settled at the place already for 8000 years. After Paris, the metropolitan area of Montreal also known as "Greater Montreal", is the second largest French-speaking city in the world. Today, Montreal is worldwide famous for being one of the most important cultural centers in Northern America. In addition, the city hosted the Olympic Summer Games in 1976. Since 1967 (with the exception of 2009), the Canadian Formula 1 Grand Prix is held in Montreal.
My exciting long weekend in Montreal unfortunately had to come to an end. After an exciting day of exploration yesterday that ended with an absolutely delicious dinner at Nuances, the fine dining restaurant at the Casino de Montreal, capped by an impressive pyro-musical performance at La Ronde, I rested up so I would be able to squeeze in a few more hours of discovery this morning. One more exploration of the city before I would have to had back to Toronto on the train before noon.
With all my suitcases duly packed I went off for one more urban adventure. Fortunately checkout wasn't until noon, so I was able to leave my luggage at the hotel and just head off with my camera and my backpack. I started walking west on Rue De La Gauchetière Ouest which starts off as a fairly small street surrounded by five or six story high older buildings. The first major sight I came across was St. Patrick's Basilica.

St. Patrick's Basilica
My personalized tour of the Casino de Montreal was very interesting and taught me many different things that I had never known about casino operations. My learning experience was followed by an opportunity to sample the Casino's hospitality first hand. Alexandre took me up to the top floor of the Casino and handed me over to Benoît, the restaurant manager at Nuances, the Casino's gourmet restaurant.

Benoît, the Restaurant Manager at Nuances, and Alexandre, my Casino guide
After my lovely cheerful encounter in the Square St. Louis I briefly went back to the hotel and then took the subway to the exit at Jean Drapeau Park. There are two large islands in the St. Lawrence River: Ile Notre-Dame and Ile Sainte-Helene. The latter more than doubled in size in preparation for Expo 1967. From the Park Jean Drapeau metro station I took local bus 167 to get to La Ronde, an amusement park originally set up for Expo 67. I had a ticket for tonight's international fireworks competition which was going to be held at La Ronde, so I had to go and pick it up at the information counter.

Entrance to La Ronde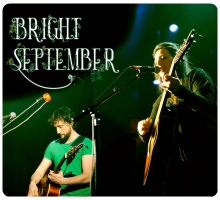 In September 2010, Esther (vocals / guitar) and Stephane (guitar / vocals) merged their respective artistic universes to create a dozen melancholy pop songs tinged with ambient rock: Bright September was born.
Early on, the duo performed on various stages across the city to test their compositions. The attention to acoustic guitars, powerful melodies and the haunting voice of Esther immediately seduced the audience.
Based on this experience, they included additional musicians who further enriches their music.
For a wise mix of intimate moods and pure energy look for their live shows in the city. And in the meantime … the band just released its first EP which is now available online (Amazon, Facebook, Spotify, Record Union …).
For more information on this band take a look at their myspace profile http://www.myspace.com/brightseptember
Enjoy the music!