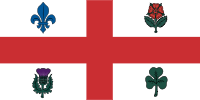 Montreal (French: Montréal) is the second-largest city in Canada and the largest city in the province of Quebec. Originally called Ville-Marie ('City of Mary'), the city takes its present name from Mont-Royal, the triple-peaked hill located in the heart of the city, whose name was also initially given to the island on which the city is located, or Mont Réal as it was spelled in Middle French, (Mont Royal in present French).
Languages. French and English.
Currency. The Canadian monetary unit is the Canadian dollar ($ CAN), which is divided into 100 cents. To consult the Bank of Canada currency converter, visit www.bankofcanada.ca/en/rates/converter.html.
Religions. Canada is mainly Roman Catholic and Protestant.
Climate. Humid continental. The average temperature in September is 15°C.
Time zone. Québec local time is equivalent to GMT-4, i.e., 4 hours behind Greenwich time. From April to October, local time is Eastern Daylight Savings Time.
Telephone codes. The country code for Canada is 1. The area code for Montréal is 514.
Drinking water. All water in Canada, Québec and Montréal is drinkable, unless the local authorities indicate otherwise.
Electrical current. The current is 110 volts (60 cycles). Since receptacles here cannot accept European plugs, you must bring an adapter.
Telephone and postal service. The cost of a local call from a public telephone is $0,50. You can pay with coin or a prepaid card (it costs more to pay with a credit card). Prepaid telephone cards (on sale in convenience stores and some grocery stores) are generally the most economical choice. Operation of a portable telephone outside the country depends on the technology used and the service offered by the provider. There are postal counters in many stores, such as pharmacies, and Canada Post offices in many locations.
Credit cards. The better known credit cards, such as Visa, MasterCard et American Express, are accepted everywhere. Travellers cheques are generally honoured in large hotels, department stores, and even some restaurants. They can be cashed in a foreign exchange bureau or bank.
Where to stay. As a major cultural capital, Montreal attracts visitors of all types, and no where is this more evident than in the range of accommodations available. From historic hotels and downtown luxury hotels suitable for couples and business travelers to budget hostels for younger sightseers, there is something to suit every taste and need. Directly outside the city, there are also a number of resorts and timeshares perfectly suited for families with a range of on-site activities available.
Business hours for stores and banks. Most stores are generally open continuously from 10 a.m. to 6 p.m. from Monday to Wednesday, from 10 a.m. to 9 p.m. Thursdays and Fridays, from 10 a.m. to 5 p.m. Saturdays, and from 12 noon to 5 p.m. Sundays.
Pharmacies and grocery stores open earlier and close later in the evening. Banks are generally open from 10 a.m. to 3 p.m. Monday to Friday. Most bank machines allow withdrawals around the clock, seven days a week.
Taxes. Two taxes, the federal and provincial goods and services taxes are added to the sales price on most products and services.
Gratuities. In restaurants, bars, taxis and barber shops, you should leave a tip, which is not included in the bill, representing from 10% to 15% of the bill amount (taxes excluded). Tips for messengers and luggage handlers are generally left to the customer's discretion (in general, $1 per piece of luggage).
Driving. In Canada, we drive on the right. Visitors may drive a car in Québec with a driver's licence from their home country (for a maximum period of six months). The speed limit on highways is 100 km/hr and 50 km/hr in cities and towns. Seatbelts are compulsory for all passengers in a vehicle everywhere in Canada.
Health. Foreign travellers must cover their medical expenses themselves. It is thus important to have an individual health insurance policy before you leave for Canada.
Emergency services. You may dial 9-1-1 at any time. The service is free from a telephone booth, and is available in French and English.
Anti-smoking legislation. Smoking is prohibited in all public establishments, including bars and restaurants.
Meal hours. In general, Quebecers take their noon meal at 12 noon and their evening meal ("supper") around 6 p.m. In restaurants, suppers are generally served from 5:30 to 10:30 p.m. It is customary to arrive in upscale restaurants after 7 p.m.
Alcohol, bars and casinos. In Québec, admission to bars and casinos, and the purchase and consumption of alcohol are limited to persons aged 18 years and over (identification may be required). Wines and spirits are sold in branches of the Société des alcools du Québec. You can purchase beer in grocery and convenience stores, which also offer a limited selection of wines.